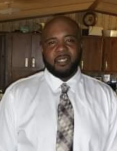 Milton Shawndale Garrison, 44, a resident and native of Morgan City, LA, passed away on Sunday April 10, 2022 at 7:35 AM.
Visitation will be observed on Saturday April 23, 2022 at Jones Funeral Home 715 Sixth Street Morgan City, Louisiana 70380 (All visitors are asked to adhere to the CDC/local regulations by wearing masks and practicing social distancing) from 8:00 AM until dismissal services at 10:00 AM. Milton will be laid to rest in the Morgan City Cemetery following the dismissal services.
Milton leaves to cherish his memories a host of relatives and friends.
To send flowers to the family or plant a tree in memory of Milton Shawndale Garrison, please visit our floral store.
Arrangements entrusted to Jones Funeral Home of Morgan City/Franklin/Jeanerette and Houma.  please visit; www.jones-funeral-home.com, to send condolences to family.