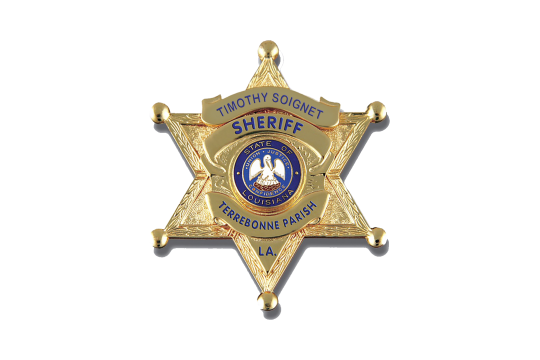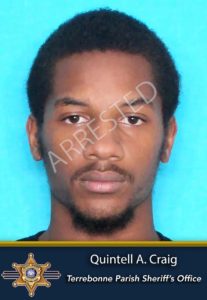 Terrebonne Parish Sheriff Tim Soignet announced the arrest of a Schriever man on firearms related charges, stemming from an incident investigated by the Terrebonne Parish Narcotics Task Force Agents. Quintell Andre Craig, 27, of Schriever was arrested for multiple criminal offenses as a result of his involvement in the investigation.
On May 30, 2023, shortly before 10pm, Terrebonne Parish Sheriff's Office Narcotics Agents were conducting patrols of a neighborhood in the 2600 block of West Main Street in Gray, La, when then observed a suspicious male walking in the area. Agents attempted to contact the male subject, who fled the area on foot, and discarded a bag that he was carrying during his attempt to flee authorities. After a short foot chase, Agents were able to take the male subject into custody with the use of a Taser and was later identified as Quintell Andre Craig.
As the investigation continued, Agents were able to recover the bag carried by Craig and discovered the bag to contain a loaded handgun amongst other items. Agents quickly learned that Craig had outstanding warrants for Armed Robbery in an unrelated case and was a documented convicted felon.
Quintell Andre Craig was charged with Illegal Carrying of a Weapon, Possession of Firearm by Convicted Felon, Resisting an Officer, and outstanding arrest warrants. Craig received medical treatment for a minor injury sustained during the incident and was later transported to the Terrebonne Parish Criminal Justice Complex, where he remains jailed on a $375,000 bond by local judges.
Sheriff Tim Soignet would like to commend the quick response of the Sheriff's Office Narcotics Division, which directly affected the apprehension of Craig, and overall safe resolution of this incident. Sheriff Soignet said, "Our Agents do an incredible job when dealing with the dangers of their day-to-day encounters. I can't say enough about how amazing this Division is, and the level of safety they provide for our community."
ARRESTED PERSONS ARE PRESUMED INNOCENT UNTIL PROVEN GUILTY