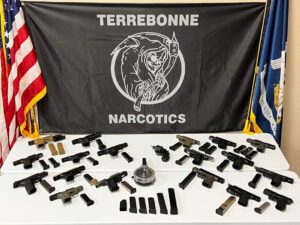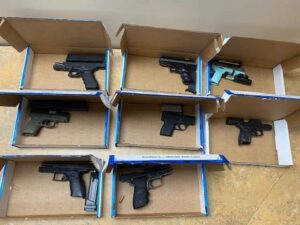 Terrebonne Parish Sheriff Tim Soignet reports that during the first weekend of Mardi Gras parades, Feb. 18th-21st, there were multiple subjects arrested and several guns were recovered from individuals on and around the parade route.
During the parade events the Terrebonne Parish Sheriff's Office Narcotics division along with the Louisiana State Police criminal division and the West Baton Rouge Sheriff Office were assigned to patrol the parade route and the surrounding areas. Their primary assignment is to patrol the above mentioned areas in order to locate any potential suspects who are involved in criminal activity.
There were a total of nineteen handguns recovered, some that were reported stolen and others with obliterated serial numbers along with extended and high capacity loaded magazines. These illegal weapons were recovered from adult and juvenile offenders. All of these suspects carrying guns were arrested. Some of these offenders were also in possession of illegal drugs which are as follows: marijuana, Heroin, OxyContin, Hydrocodone, Xanax and Suboxone and various amounts prescription meds. Also, there were a number of vape pens recovered that contained illegal amounts of THC. There were twenty-two offenders who were either arrested or issued misdemeanor summons for possession of the illegal narcotics previously mentioned.
Sheriff Soignet would like to commend all law enforcement agencies that participated in this past Mardi Gras weekend parade events. This weekend was successful and safe; however, it would not be possible without our concerned citizens and all of the extra law enforcement help.
Terrebonne Parish Sheriff Tim Soignet and Houma Police Chief Dana Coleman express that Mardi Gras in Terrebonne Parish is a family oriented event and this type of criminal behavior will not be tolerated.