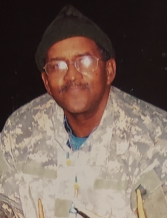 Charles Lee Perry, Sr., a resident and native of Charenton, LA, passed away peacefully on Tuesday December 28, 2021 at 5:15 PM at Our Lady of Lourdes Heart Hospital in Lafayette, LA.
Visitation will be observed on Saturday, January 8, 2022 from 9:00 A.M. until funeral services at 12 Noon at the Mount Pleasant Baptist Church 1341 Martin Luther King Dr, Jeanerette, LA 70544. Burial will follow funeral services in the Godman Cemetery in Charenton, LA.
Memories of Charles Sr., will forever remain in the hearts of his children, Bishop Charles L. (Cheryl) Perry, Jr. of Verdunville, LA, Dwayne P. (Felicia) Perry and Brian R. Perry both of Charenton, LA, Angela M. (John) Thomas of Port Arthur, TX, Mamie (Christopher) Perry-Leonard and Sheena T. (fiancé', Edward Roman) Perry both of New Iberia, LA; brothers, Bernard (Jennie) Perry, Sr. of Baton Rouge, LA, Darrell (Jolene) Perry of Franklin, LA, Herbert (Ruth) Perry of Largo, MD, Kenneth (Anna) Perry, Sr. of Charenton, LA, Keith (Xiomara) Perry of Waldorf, MD; sisters, Jeanette (Conrad) Burgess and Kim Perry both of Charenton, LA, Paula Perry-Edwards of Anchorage, AK, Pamela (Kevin) Jones of Franklin, LA, and Deiedra (Hoytt) Perry-Williams of Ellenwood, GA; eight grandchildren, five great-grandchildren and a host of nieces, nephews, other relatives and friends.
Charles, Sr. was preceded in death by wife, Barbara Jean Perry; parents, Albert and Rita Mae Perry, Jr.; siblings, Albert Perry, III., James Perry; nephew, Julian Perry and a niece, Eugiene Perry Perkins and his maternal grandparents, Mariah Pierre Carter and Sylvester Carter, Sr. and his paternal grandparents, Louise Neuve Perry and Albert Perry, Sr.
Arrangements entrusted to Jones Funeral Home of Morgan City/Franklin/Jeanerette and Houma. please visit; www.jones-funeral-home.com to send condolences to family.