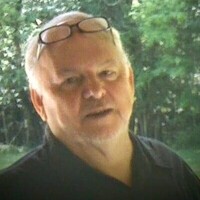 Funeral services for Clay Joseph Hebert III, 75, of Diboll will be held Thursday, January 6, 2022 at 1:00 p.m. at Carroway Funeral Home. Interment will be in Memorial Park Cemetery in Louisiana, where he will be laid to rest with his first wife, Linda.
Clay Joseph Hebert III, a native of St. Martinville, Louisiana and a resident of Diboll, Texas, passed away on January 1, 2022 surrounded by his loving family after a long fight with illness.
On July 19, 1946, Clay was welcomed into the world by his parents, Florence Albert Hebert and Clay Joseph Hebert, Jr.
Clay, affectionately known as 'Bock' to his family, loved joking around and playing pranks on his siblings. He found a love for fishing which would lead to many trips and vacations to Grand Isle in hopes of limiting out on redfish.
He enlisted in the Navy in 1965 where he worked on radios and other electronics. On September 20, 1966, he married the first love of his life, Linda Johnson Hebert. Together, they accepted Jehovah into their lives and became dedicated members of Jehovah's Witnesses. Over the next few years, Clay and Linda embarked on a new journey together: parenthood. They proudly welcomed four children– one son and three daughters– into the world.
If you had a pest problem, Clay was your man. He was a successful business owner, operating Rid-A-Critter in Patterson, Louisiana for many years. He was a huge football enthusiast, especially when it came to the New Orleans Saints. He rarely missed a game and could be found either cheering them on or yelling in frustration when they messed up a play.
If you ever had a conversation with Clay, the phrases 'Whatever floats your boat' and 'As useful as a screen door on a submarine' were plentiful. He loved all Cajun food, but Gumbo was the way to his heart.
After the tragic loss of his wife Linda, he was lucky to find love again and married Elizabeth Cherry on October 8, 2008. They built a beautiful life together in Texas.
Clay will be sorely missed. He is survived by his wife, Elizabeth Cherry of Diboll; one son, Jerry Hebert and wife Amber of Elton, Louisiana; three daughters, Crystal Couvillier and husband Peanut of Patterson, Louisiana; Anna Hebert of Elton, Louisiana; Shannon Guillory and husband Richie of Morgan City, Louisiana; 11 grandchildren, Colette, Dustin, Kristen, Kaisha, Kamren, Heidi, Tai'lyn, Caidynce, Kortlyn, Kiyah, & Casen; two bonus grandchildren, Koen & Karley; one great- grandchild, Avery; three sisters, Dianne Watson and husband Bruce, Gertrude Bourque and husband Stanley, Margaret Coleman and husband David; one brother, McKanely 'Mac' Hebert and wife Jolene; numerous cousins, nieces, nephews, other relatives, and friends.
He was preceded in death by his parents, Florence and Clay Joseph Hebert Jr.; and his first wife, Linda Hebert.
Clay's family would like to thank Billy Simms and family for the love and support shown to Clay.
Memories and condolences may be added at www.carrowayfuneralhome.com.
Carroway Funeral Home, Lufkin, directors.