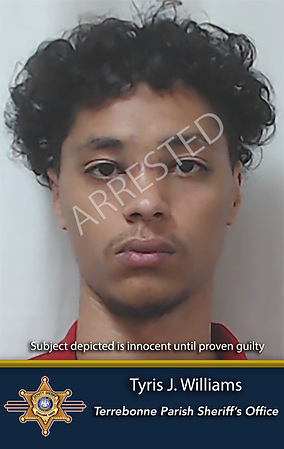 Terrebonne Parish Sheriff Tim Soignet announced the arrest of a Houma man, in connection with an investigation being conducted by Special Victim's Unit (SVU) Detectives of the Sheriff's Office. Tyris Jawaun Williams, 19, of Houma, was arrested for Third Degree Rape, Indecent Behavior with a Juvenile, and Sexual Battery in connection with the investigation.
On June 5, 2023, Terrebonne Parish Sheriff's Office SVU Detectives were made aware of a complaint of sexual abuse of two juvenile victims, which was being investigated by the Patrol Division of the TPSO. During the review of the investigation, SVU Detectives learned that the abuse occurred during the nighttime hours of June 4th and both victims identified the same perpetrator, Tyris J. Williams. Through further investigation, SVU Detectives discovered that the incident(s) occurred at a residence within the parish of Terrebonne, where the victims met Williams, after meeting him on a Social Media application.
Through the course of the investigation, SVU Detectives spoke with the victims, who confirmed that Williams committed sexually motivated abuse upon each of them within the residence, at separate times throughout the night. The investigation confirmed that the victims met Williams for the first time on the night of the abuse.
During the course of the investigation, SVU Detectives located Tyris Williams at his home, and he was taken into custody and later arrested. Williams is currently jailed at the Terrebonne Parish Criminal Justice Complex, where he is being held on a $150,000 bond by local judges.
Sheriff Tim Soignet confirmed this is an ongoing investigation, and additional charges are not known at this time. Sheriff Soignet said, "As always, we ask for patience and privacy for the victims and family. Our Detectives are working diligently to bring a resolution to this unfortunate investigation."