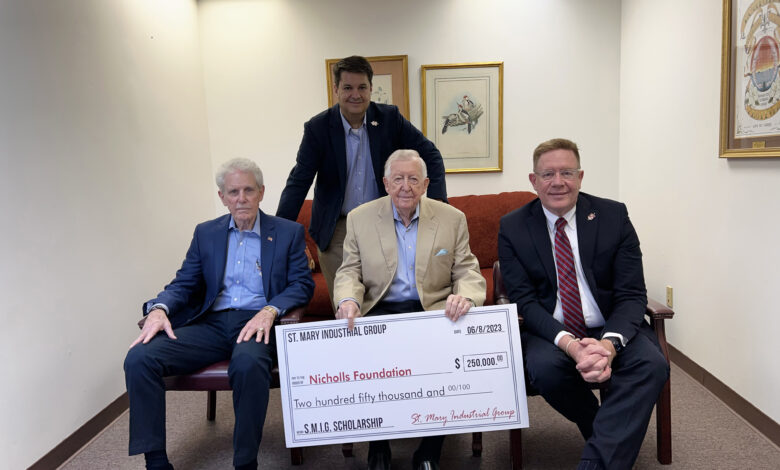 THIBODAUX, La. – Nicholls received $250,000 to create the St. Mary Industrial Group Endowed Scholarship to benefit Nicholls students who are graduates from an East St. Mary Parish high school, including Central Catholic, Morgan City, Berwick, and Patterson High Schools.
"We are happy to donate to such a fine school in our area. The scholarship being established would not be possible if not for Mr. B.A. 'Red' Adams, Sr.," said Mr. R.E. "Bob" Miller, president of Major Equipment & Remediation. "Mr. Red has always supported our entire community, and he's been a class act since he was young and working hard, and he's still a class act now. Mr. Red was one of the founders of S.M.I.G., and initially, members were men in the oil industry or vendors that catered to the oil industry. Over the years, S.M.I.G witnessed a growth in membership, as well as the diversity of its members. Our hopes for the scholarship are to help students in the Morgan City, Berwick and Patterson area to continue their education, to increase their knowledge, to excel, to get involved and make our area a better place for families to grow and thrive."
Recipients will initially receive the scholarship as an incoming full-time freshman from any major and will have to maintain a 3.0 GPA level throughout their four years at Nicholls. One recipient will be selected from each high school for a total of four recipients each year, each receiving a total of $750 per year with $375 per fall and spring semester. If there is no recipient from a particular high school, then an additional recipient can be selected from one of the other three high schools for that year.
Scholarship applications for the fall 2023 semester should be submitted no later than the close of business Wednesday, July 19, 2023, or the deadline noted in the scholarship description. To apply for scholarships at Nicholls, please visit https://www.nicholls.edu/financial-aid/scholarships/.
To apply for the fall 2023 semester at Nicholls, admission applications must be completed, the application fee must be paid, and all documents necessary for admission decision must be submitted by Thursday, Aug. 17, 2023. To learn more, visit https://www.nicholls.edu/admissions/apply/.