Obituaries
Shirley Richard Savoie, Former First Lady of Berwick, Passes Away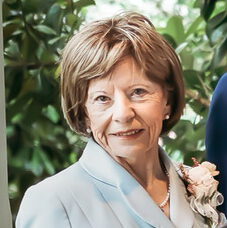 Shirley Richard Savoie, age 84, of Berwick, LA passed away on Thursday, September 29, 2022. Shirley was born October 9, 1937 in Lewisburg, LA to the late Bertrand and Bridget Comeaux Richard.
A visitation for Shirley will be held Wednesday, October 5, 2022 from 8:00 AM to 10:00 AM at St. Stephen's Catholic Church, 3217 2nd St., Berwick, Louisiana. Following the visitation will be a Mass of Christian Burial at 10:00 AM at St. Stephens Catholic Church, 3217 2nd St., Berwick, LA.
Shirley was the former First Lady of Berwick, LA during the years 1976 to 1984. She served as the Queen of the Berwick and Bayou Vista Mardi Gras Association in 1981 and she was a hostess for the St. Stephens Rosary Group. Her passion was cooking and feeding her family. She was an avid walker.
She is preceded in death by her parents, Bertrand and Bridget Comeaux Richard and 7 brothers and sisters.
She leaves her legacy to be fulfilled by her husband of 66 years,Charles A. Savoie; son, David Charles Savoie and his wife Sheila; daughters, Dawn Savoie Thomason and her husband Mike, Angela Savoie Faucheaux and her husband Eric; brother, Emery "Blue" Richard and his wife Jessie; grandchildren, Ben Thomason and his companion Alixandra Hainkel, Danielle Richard (Tyson), Bridget McIntire (Joshua), Ashton Pitre, Camille Savoie; 1 great grandchild, Parker Boudreaux and 2 on the way. Serving as pallbearers are Mike Thomason, Eric Faucheaux, Ben Thomason, Ashton Pitre, Ronald Tweedel and Tyson Richard. Shirley will be laid to rest in the Berwick Memorial Cemetery Mausoleum.
Fond memories and expressions of sympathy may be shared at www.hargravefuneralhome.com for the Savoie family.