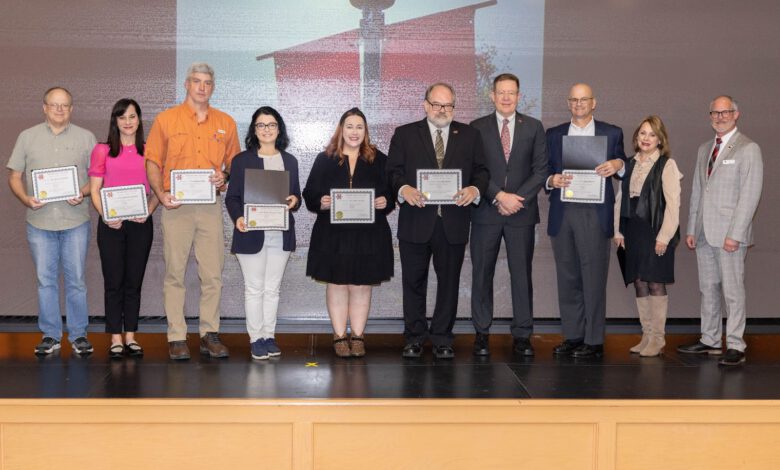 THIBODAUX, La. — Nicholls State University awarded its Top 10 Grants Winner Awards for Funding Received in 2022, who combined, received over $8 million in grant funding for 2022, at the university's Spring 2023 Convocation on Wednesday, Jan. 11, 2023.
"Rigorous academic research and creative scholarship is time-consuming, requires great attention to detail, strong adherence to the standards and principles of your discipline, and takes substantial persistence to complete. For that reason, Nicholls has initiated the annual Grantsmanship Award as a means to celebrate and recognize ten outstanding faculty or staff who obtained the largest funding in the past year. This year's 10 recipients represent over $8 million in awards for both research and programmatic support," said Director of Research and Sponsored Programs Debi Benoit.
The Top 10 Grants Winner Awards for Funding Received in 2022 are:
Dr. John Lajaunie, Awarded $5 million to establish the Bayou Region Accelerator Program to work in coordination with the Bayou Region Incubator
Dr. John Doucet, Awarded over $1.8 million to Nicholls Coastal Center and College of Sciences and Technology for engineering and technology training for a new energy industry in South Louisiana
Zerica Washington, Awarded $581,002 to Nicholls Family Service Center
Dr. Jonathan Willis, Awarded $317,456 to Nicholls Department of Biological Sciences for wetland monitoring and reporting, integrated remote sensing and field base assessments, and ecology of ridge restoration projects in the Barataria-Terrebonne
Katie Lasserre, Awarded $278,703 to Little Colonels Academy for Teacher Supplemental Pay Grants and Teacher Support Grants
Dr. Balaji Ramachandran, Awarded $231,485 to Nicholls Department of Applied Sciences for enhancement of coastal Louisiana research and workforce infrastructure, data maintenance and geomatics program funding
Dr. Kimberly Reynolds, Awarded $210,720 to Department of Psychology and Louisiana Child Welfare Training Academy
Dr. Allyse Ferrara, Awarded $188,530 to Department of Biological Sciences for enhancement of first-year general biology laboratory experience for science majors, discovery tools for major vertebrate transitions and coastal restoration efforts
Dr. Darcey Wayment, Awarded $173,700 for Department of Chemistry to use a liquid chromograph mass spectrometer to enhance learning in the agricultural, biological and chemical sciences
Gina Bergeron, Awarded $141,760 to Nicholls Family Service Center for a nurse family partnership with regional infant and early childhood mental health supervisors
Nicholls State University depends on support from alumni, parents, private foundations, corporations and organizations to help meet the increasing needs of providing academic excellence for students in the Bayou Region and beyond.