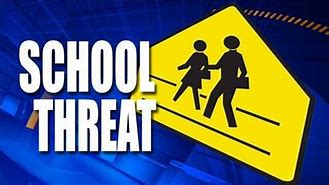 On Monday, December 12, 2022, information was obtained by School Administrators and the SRO Officer that a student had possession of a gun at New Iberia High School. Administrators and the SRO Officer worked quickly to bring the student in and a gun was found and the student was arrested and has been booked into a Juvenile Detention Facility. The school was placed on a "Soft Lockdown" and precautionary measures were taken and after gathering all the Facts, the school was deemed Safe and was taken off of Lockdown. No other guns were located and no other arrests were made. Anything other than this is misinformation and NOT TRUE. That is the FACTS of what occurred on Monday, not what Social Media posting experts want you to believe to cause fears and panic.
Today, Tuesday, December 13, 2022, information from parents were called into the School Office letting them know that they were concerned cause information being retrieved from children was that there was going to be a "shooting at lunchtime today". As we were notified of this information, our Department will always take the safety of our Students, Faculty, and Community as its first priority. We activated our Active Threat Protocol and were assisted by the Iberia Parish Sheriff's Office and School Administrators to assure that no one, from the outside or inside were a threat to the safety of our Students and School Faculty. These types of threats cause disruption to the school and parents alike. Our law enforcement resources also get strained as this in not a small task to complete safety measures of this magnitude. With this said, many "social media experts" felt the need to interject themselves by posting "their facts" without any knowledge of what was actually taking place. The priority of Law Enforcement and School Officials is to provide a safe learning environment without disruption, so that all students can get the best possible education. These "experts" do not help this with the many "claims of facts" that are completely False. One other "rumor" that has been put out as "their fact" is that of a video that surfaced of a student with a handgun from inside of the school. This is NOT a Student at NISH, nor was it taken from inside of NISH. This video that surfaced was investigated and dispelled as being inside of the school. Anyone saying its from inside of NISH is NOT telling the truth. We would encourage anyone that sees something on Social Media, should not assume it as fact. Our encouragement to all that have information about a "rumor" is to call our Department or School Administrators and provide all the information that you may have and where the rumor is rooted from, so that it can be investigated completely before shutting down school services. As you can see from what occurred from the information on Monday, School Administrators and the SRO Officer worked quickly to go to the root of the information and handle accordingly. Rumors that have no root, cause a full disruption of the educational environment.
With this said, if anyone Intentionally calls in false information that disrupts our Educational Environment, we will be pursuing Criminal Charges. We will not tolerate false rumors that disrupt the education of our children.
NIPD would like to thank their Partners at the Iberia Parish Sheriff's Office and Iberia Parish School System who worked diligently to assure that there was a safe environment.