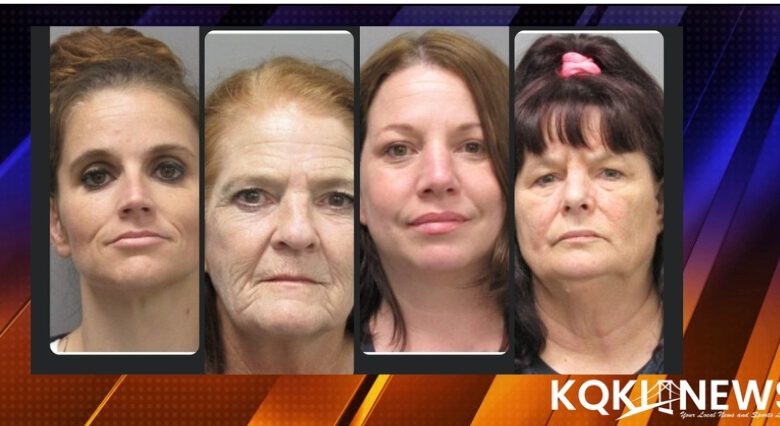 Lafourche Parish Sheriff Craig Webre announced seven people have been charged as a result of an investigation into drug activity on Adams Street in Mathews.
Lafourche Parish Sheriff's Office narcotics agents had been investigating drug activity at several residences on Adams Street with assistance from agents from Louisiana Probation and Parole. During the investigation, agents obtained arrest warrants for two Adams Street residents: Sandra Boudreaux, 60, and Pamela Crosby, 65.
On May 3, 2022, agents arrived on Adams Street. At Crosby's residence, they made contact with Crosby and Boudreaux and placed them under arrest on the active warrants. Lucy Adams was also present and she was charged with Possession of Drug Paraphernalia. Dwan Demere, 43 of Abbeville also showed up while agents were on the scene. She was found to have an active warrant for contempt of court related to a charge of unauthorized entry of a home,
and she was also placed under arrest.
Another vehicle showed up at the residence while agents were on the scene. One of the occupants was Nickey Domangue, 37, of Lockport, who had active warrants for her arrest. She was also found to have methamphetamine in her possession.
Agents then proceeded to another Adams Street residence for which a search warrant was obtained. Agents found drug paraphernalia inside the residence and charged resident Kendra Cheramie, 55. Briana Perrillioux, 30, of Lockport, was present, and she was also charged with Possession of Drug Paraphernalia.
The arrested individuals were booked into the Lafourche Parish Correctional Complex in Thibodaux:
Boudreaux was booked on Distribution of Klonopin. She was released after posting bail in the amount of $5,000.
Crosby was booked on the warrant for Distribution of Hydrocodone. Bail is set at $25,000, and she is also being held for Louisiana Probation and Parole.
Demere was booked on the contempt warrant. Bail is set at $16,000.
Domangue was booked on warrants for contempt of court and Simple Battery. She was additionally charged with Possession of Methamphetamine. Bail is set at $16,000.
Citizens are reminded that they can report any drug-related or suspicious activity. Information can be reported directly to the Narcotics section commander, Lieutenant Derek Champagne, at (985) 532-4365 or derek-champagne@lpso.net. Information can also be reported anonymously through Crime Stoppers Bayou Region at 1-800-743-7433, online at CrimeStoppersBR.org, or via the Bayou Tips app on mobile devices.