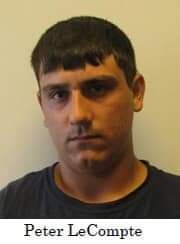 Terrebonne Parish Sheriff Tim Soignet said that after several weeks of conducting an investigation regarding sexual abuse of a minor child TPSO detectives arrested a Montegut man for First degree rape.
​TPSO deputies initially responded to this complaint that was reported by a concerned citizen. The complainant explained that the minor child, who's under the age of 10, disclosed sexual abuse on multiple occasions within the past few months. The allegations that the victim explained to the complainant, the initial deputy and later to the investigating detective remained consistent. Peter Vincent LeCompte, age 19, of Crochetville Rd. Montegut, who is an acquaintance of the victim, was identified as the suspect in this investigation.
​On Monday, October 25, 2021, TPSO detectives made contact with Pete LeCompte. He was questioned regarding the allegations made against him. LeCompte confirmed that he knows the victim and was alone with the child on different occasions but denied the allegations.
​After further investigation Peter Vincent LeCompte was arrested for First degree rape and booked into the Terrebonne Parish Jail.
​On Tuesday, December 14, 2021, the facts of this case was presented to a Terrebonne Parish grand jury and Peter LeCompte was indicted on the charges of First degree rape.