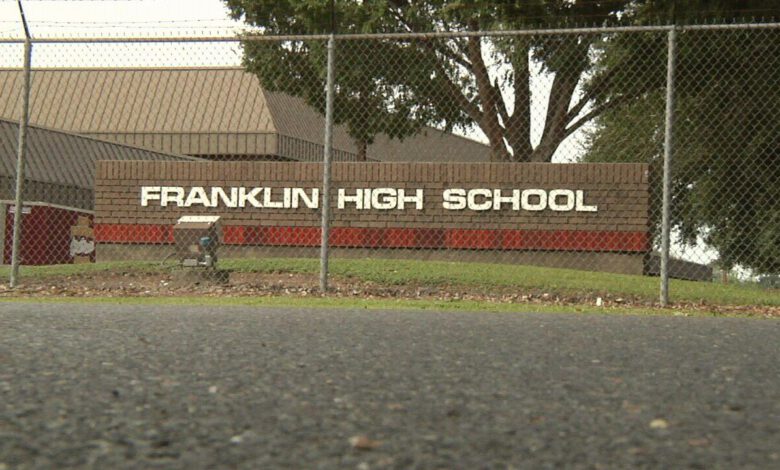 In an exclusive interview with KQKI News, a student who witnessed an incident at a high school basketball game at Franklin High School Friday night, got emotional as she recalled some of the events that eventually led to the evacuation of the gymnasium. The events happened during a district boys basketball contest between Franklin Sr. High and West St. Mary High Schools.
In a statement released late Friday night, the St. Mary Parish School Board said, "An incident occurred at Franklin Senior High during a district basketball contest between West St. Mary High School and Franklin Senior High. Franklin Police Department, St. Mary Parish Sheriff's Office, Baldwin Police Department, Chitimacha Tribal Police, and St. Mary Parish Schools District Personnel all assisted with the safe evacuation of students, fans, staff, and LHSAA officials. The situation was swiftly contained under the direction of all assisting agencies. More information will be made available, as an investigation is ongoing."
The female student was attending the game with several friends and said she witnessed some fights that broke out among fans inside the gym. Shortly after law enforcement brought the situation under control, someone reportedly pulled a gun. At that time, the student said fans in the Franklin High School section laid down while officers from area agencies investigated the incident and brought those involved outside. She said while those parties were outside, someone else reportedly pulled a gun and attendees who had left the gym after the first incident ran back inside.
Officers reportedly began escorting fans from both sides into separate areas of the school. The student said fans from the Franklin side were escorted to the girls gym while West St. Mary fans were brought to the auditorium. She said while the fans were in the gym, she said they heard shots fired outside the school and the gunman reportedly tried to enter the gym after firing the gun. She said the events lasted approximately 15 – 20 minutes and were filled with screaming, chaos and panic. She added that those involved appeared over 18-years-old with some witnesses alleging them to be gang members.
The student's mother said she is very concerned and wants answers as to why fans did not enter through the entrances that are equipped with metal detectors. Therefore, there was no way of knowing if anyone had a weapon on them.
KQKI News attempted to contact Franklin Interim Police Chief Tina Thibodaux, but she sent word through a spokesperson that no other information was being released at this time pending further investigation.