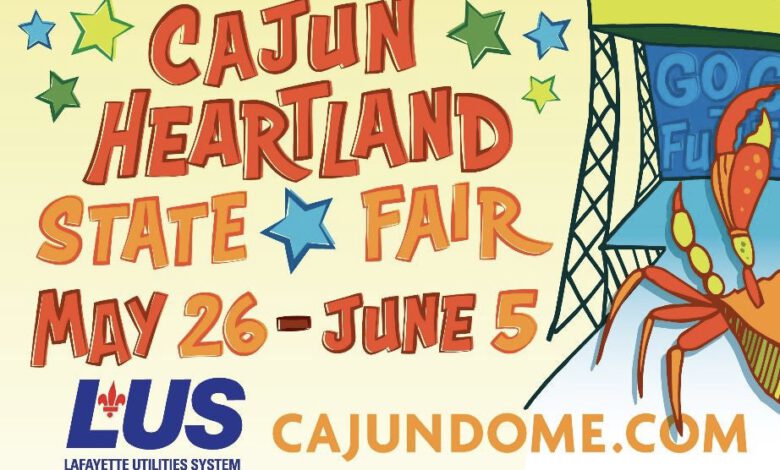 LAFAYETTE, LA (MAY 22, 2023): The Cajun Heartland State Fair returns to the CAJUNDOME grounds Thursday, May 25, through Sunday, June 4. The 35th annual CHSF will feature some exciting new amusement rides, free attractions and entertainment offerings to delight attending fans. Fans can refer to www.CAJUNDOME.com/CHSF for the latest updates, fair hours and show-times.
In a statement, CAJUNDOME officials said, "We hope you'll make plans to join us this year as we strive to provide the best in family entertainment for adults and children of all ages. This year, we welcome back ride operator Gold Star Amusements that will provide numerous super rides and classic favorites for the whole family. Games and free attractions such as the Circus Hollywood, featuring a Big Top circus with nightly performances, the Giraffic Menagerie and Petting Zoo, and Racing Pigs will delight fans and don't miss daily stunt performances by the Puppy Pals, as seen on America's Got Talent! Or, see what the fuss is all about at the Cajun Fried Pickleball Classic May 27 – 28 in the Convention Center."
The CHSF said they are also thrilled to announce an exciting grandstand line-up featuring live music daily with Parish County Line, Rusty Metoyer, LA ROXX, Dustin Sonnier and more! For the complete line-up, visit CAJUNDOME.com/CHSF. Plus, snap a photo at the Table Room's pop-up selfie experience and rock the mic at the Future Headliners Karaoke Club on select nights from 7 PM – 10 PM.
Early bird ride discounts on sale now with Half Price Ride Tickets at your local ShopRite or Tobacco Plus store and the $20 Memorial Day unlimited ride wristband is back when you purchase by May 28! Plus, snag a $25 BIGSHOT VIP Pass for daily admission access, special coupons offers, a swag bag and admission into the opening night VIP party!
Free parking available at Cajun Field; please use the pedestrian tunnel to access the fair entrance. General Admission is $5 for ages 6 and up. Clear bag policy is in effect. Please refer to the CAJUNDOME website for allowable bag sizes.
Prizes and surprises await everyone at the Cajun Heartland State Fair!