Local News
Sports
St. Mary Parish
Burrow Mania continues with new Joe Burrow Music Video filmed by Patterson Film Maker
Patterson Film Maker tapped to film tribute music video in honor of Joe Burrow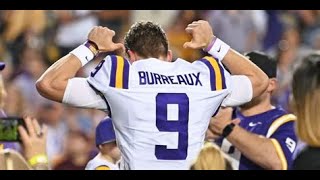 With all the hype surrounding around local hero and former Heisman Trophy winner Joe Burrow now on his way to the Superbowl, it didn't take long for radio personality and voice of cartoon characters Scooby Doo and Shaggy, Scott Innes of Classic Hits along with Grammy nominee & member of Louisiana's LeRoux Nelson Blanchard, to write what Scott Innes said "just came naturally".
The song Titled "The Super Burrow Ring" is being recorded by Innes & Blanchard and filmed by Patterson film team, Valen Productions & William Gil Films.   "The song will give you goose bumps and definitely get you excited for Joe", says Nelson Blanchard.
Other artists to appear on the song will be Nashville Recording artist and Louisiana Music Hall of Famer, Tareva Henderson, and Grammy Award winner, Jo- El Sonnier.
We encourage everyone to listen to the song and watch the video and share it all over the world! As of Tuesday morning, it has been viewed 80,000 times!
Innes says "This is a song for our people of South Louisiana who watched Joe Burrow and the LSU Tigers on that remarkable undefeated season! Now our favorite Tiger is in the Super Bowl! Wow! And to think it all started at Death Valley!"