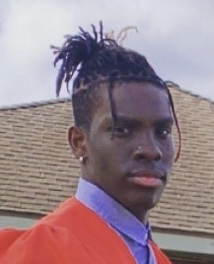 Brandon Jarea Sterling, 18, a resident of Bayou L'Ourse, LA, passed away on Sunday, April 17, 2022 at Ochsner St. Mary.
Visitation will be observed on Saturday, April 30, 2022 at the Siracusaville Recreation Center in Morgan City (Siracusa Area), LA from 10:00 AM until funeral services at 1:00 PM. Pastor Charles Otis, Sr. will officiate the services. Burial will follow funeral services in the Patterson Memorial Park Cemetery in Patterson, LA.
Memories of Brandon will forever remain in the hearts of his parents, Darnisha Reneé Sterling & James Henry Cox, Jr. of Bayou L'Ourse, LA;  biological father, Brandon Jarea Spencer of Erath, LA; siblings, Brendon Sterling, Dwayne Mczeal, Jr., of Bayou L'Ourse, LA, and Landon August, Braylon Spencer, and Thai'Lynn Brooks of New Iberia, LA; aunts, Danielle Sterling, Shanice Spencer, Sheonna Spencer, Seanika Smothers, Asiala Jenkins, Shanta Smith, Jamika (Quindell) Mitchell, and Jamie Sade Cox;  uncles, Sean Smothers, Brandon Ledford, Ivory Cox, Harold Wayne Clark, Irving Knight, Stanley Linzer, Jr., and Shelton Knight; maternal grandparents, Denise Sterling of Opelousas, LA and Joseph Jackson of Patterson, LA; paternal grandparents, Philtheria Spencer and David Merrill of New Iberia, LA; maternal great-grandmother, Mary Lee Sterling; great uncles, Steve Sterling and Curley Sterling, III; great-aunts, Francine Sterling, Paula Sterling, Erica Sterling, Lisa Knight, Bernadine Garrett, and Dorothy Henry and a host of other relatives and dear friends.
Brandon was preceded in death by his paternal grandfather, Sean Smothers and his great-grandparents, Wilda Henry-Jackson & Cleveland Henry, & Curley Sterling Sr.