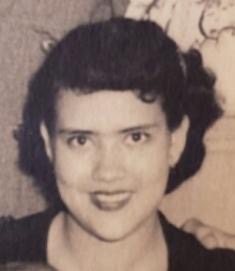 Forever young, Alice Lauriano Taylor, resident of Morgan City, LA passed away on January 7, 2022.  She was born on April 14, 1932 in Tela, Honduras to the late Levi E. and Elena G.Lauriano.
Alice is survived by a daughter, Brenda T. Gelpi (Jim), Madisonville, LA, and sons,Roberto E. Taylor (Jessica), San Antonio, TX, Dennis A. Taylor (Judy), Patterson, LA, and Dr. Edwin E. Taylor (Beckie), Pensacola, FL, six grandchildren, 3 great grandchildren with another on the way, a brother Jorge Lauriano, Sr. of New Orleans, LA and many nieces, nephews and cousins.
She is also preceded in death by her loving husband of 60 years, Luis A. Taylor, and her sisters Emilia Castaneda, Marta Grayson, Marina Lee and Yolanda Gil.
The family will dearly feel her loss as will those friendships she cultivated while working for many years at the Tela Rail Road Co. (known as the "Chiquita" banana company) in Tela, Honduras. Adding to the friendships, and after moving to New Orleans, Alice and her husband Luis spent several years working for Reliable Industries of Harahan, LA, until retirement.
Funeral services will be held at 1:00 p.m., Wednesday, January 12, 2022, at Twin City Funeral Home with Father Mike Tran officiating. Visitation will be held January 12, 2022, at Twin City Funeral Home from 11:00 a.m. until the time of services. After services, Alice will be laid to rest in the Morgan City Cemetery.
Due to the Covid 19 pandemic, we ask that those who will be attending to please wear a mask.