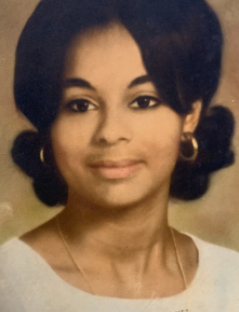 Shelia Theresa Dalcour Colbert, 68, a resident of Bayou Vista, LA, passed away peacefully on Tuesday February 8, 2022 at 9:55 AM at her residence.
A public walk-through viewing will be conducted from 8:00 am until 10:00 am on Saturday, February 19, 2022 at Jones Funeral Home 715 Sixth Street Morgan City, LA. (All visitors are asked to adhere to the CDC/local regulations by wearing masks and practicing social distancing with the recommendation of signing the registry book, viewing and exiting). Shelia will be laid to rest in the Morgan City Cemetery.
Memories of Shelia will forever remain in the hearts of her children, Shantele Thomas and Mrs. Josh (Corlise Colbert)-Stewart both of Bayou Vista, LA, Mrs. Brockne (Dominique) Jones of Arlington, TX, and Spencer J. (Avis) Colbert of Centreville, VA; sisters, Patti Dalcour of Lafayette, LA and Mrs. Lawrence (Trudy) Brooks of Morgan City, LA; twelve grandchildren, her beloved, Drew,; godchild, Glen J. Goodie; and a host of nieces, nephews other relatives and friends.
Sheila was preceded in death by her parents, siblings, granddaughter,  and a brother-in-law. 
Arrangements entrusted to Jones Funeral Home of Morgan City/Franklin/Jeanerette and Houma.  please visit; www.jones-funeral-home.com to send condolences to family.