Obituaries
Luanna "Lou" and Stanley "Stan" Amadore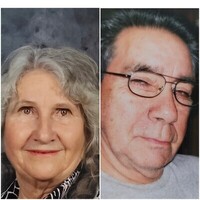 Luanna "Lou" and Stanley "Stan" Amadore, passed away just less than 34 hours apart. Lou passed away on Sunday, May 15, 2022 at West Jefferson Medical Center and Stan passed away on Monday, May 16, 2022 at his home in Bayou Sale. They both passed peacefully surrounded by family.
Lou was born on August 17, 1944 in Berwick the daughter of Marshall Clinton Thompson and Frieda Marie Bijeaux Thompson. Stan was born on October 2, 1939 in Patterson the son of George Earl Amadore and Mabel Luke Amadore.
Lou and Stan will be sadly missed and lovingly remembered by six children, Jerri Lynn Giroir and husband John, Johnnie "Sue" Pearce, Diane L. Matherne and Kim Marie Amadore all of Berwick, Julie Ann Amadore and husband Mike of Thibodaux, Stanley Clinton Amadore of Village Mills, Texas and daughter in law Lisa Amadore of Warren, Texas ; 18 grandchildren David Goodwin, Daniel Goodwin, Frances Hicks, John Giroir Jr., Timothy Giroir (Lynn), Kelli Sue Guidroz (Sue), Nikkie Marie Vasquez (Kim), Tyler Earl Amadore (Julie), Zouiee Hudgens, Terry Fendley, Garrett Amadore, Briana Amadore, Noah Amadore, Daylon Bowes and Clay Campbell (Stanley) ; 23 great grandchildren; one great-great grandchild; Lou's siblings, Aubrey Thompson and wife Vicky, Goldie Marin and husband Donald, Wanda Thompson and Clint Thompson. Lou was also survived by one aunt Mathilda B. Anslum, one uncle Lester "Skinny" Beadle; Stan's siblings, Leo Larry Amadore and Georgia Mae Peltier. Lou and Stanley leave behind numerous nieces, nephews, extended family and friends.
Lou was preceded in death by her parents and three infant brothers, Marshall Thompson, Lawrence Thompson and Ward Thompson. Stan was preceded in death by his parents five siblings, Jerry Amadore, Maxine Malinchalk, Alice Buie Shinn, George David Amadore and Theresa Amadore.
A visitation for Stanley and Lou Amadore will be held from 5:00 p.m. until 9:00 p.m. on Friday, May 20, 2022 at Twin City Funeral Home with the visitation resuming on Saturday, May 21, 2022 from 8:00 a.m. until 11:00 a.m. at the funeral home. Funeral services honoring the lives of Stanley and Lou Amadore will be held at 11:00 a.m. on Saturday, May 21, 2022 at Twin City Funeral Home with Pastor Brian Head officiating. Following the services, Stanley and Lou will be laid to rest together in the Berwick Cemetery, military honors will be provided by the United States Navy Honor Guard, for Stanley.  
Website: www.twincityfh.com​  (985)384-7630     Fax: (985) 384-7696​  ​Email: ryansyager.twincity@gmail.com