Local News
St. Mary Parish
Uncategorized
Exclusive Footage: Eight Local Fire Departments Battle Major Blaze in Franklin on Good Friday
Photos provided by Half Pint Photography and Cajun Drone Photography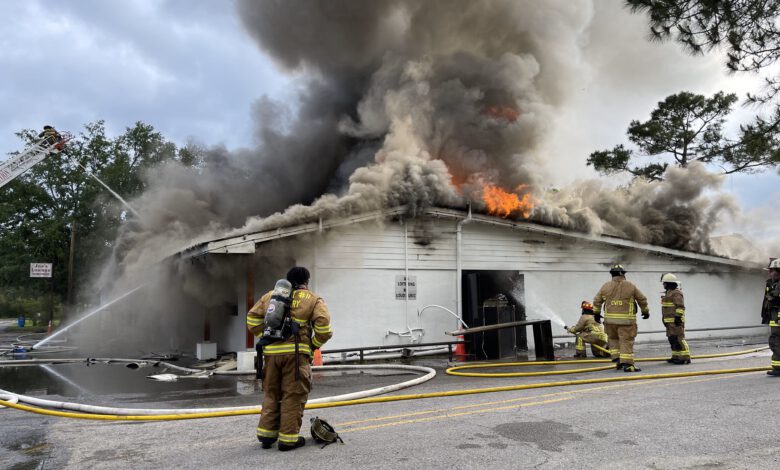 It took a total of eight local fire departments just over three hours to bring a major fire at Joe's Lounge in Franklin under control. The Franklin and Centerville Fire Departments were dispatched at 4:19 pm on Good Friday for a building on fire in the 700 block of Carl C. Foulcard Drive. Upon arrival at 4:22 pm, firefighters found thick black smoke coming from the structure.
Chief officers with the Franklin Fire Department immediately called for a third alarm and requested fire engines from Patterson and Baldwin Volunteer Fire Departments and a ladder truck from Chitimacha Fire Department.
Multiple hose lines were placed in service and Franklin fire crews made an aggressive interior attack on the fire. Initial crews were met with a large volume of fire, significant heat and smoke with conditions rapidly deteriorating and firefighters were ordered to evacuate the structure.
Franklin Fire command then called for a fifth Alarm and requested an engine from Morgan City Fire Department, an aerial ladder truck from Bayou Vista Volunteer Fire Department, and manpower with an air trailer from St. Mary Fire District District 11. The fire was placed under control 7:30 pm.
Officials with the Franklin Fire Department say the building was unoccupied at the time of the fire, which was deemed a total loss. There were no injuries reported. Franklin Fire Department has requested the State Fire Marshal to assist with the investigation, although the caused has been deemed as electrical in nature.
Franklin Fire Department thanked  District 11 , Baldwin , Chitimacha , Centerville, Patterson, Bayou Vista, and Morgan City Fire Departments for lending aid along with Franklin Police Department for conducting traffic control.
Franklin Mayor Eugene Foulcard, whose family owns the structure, released the following statement on Facebook, "I'd like to send out a special thanks to all of the fire & rescue personnel throughout our parish. Thanks to Chief Chuck Bourgeois for spearheading this major operation. To all the units from Morgan City, Patterson, Baldwin, Centerville, Bayou Vista, Franklin, Chitimacha, & District 11, we thank you from the entire Foulcard family. We are stronger together."
Exclusive photos below provided by Half Pint Photography
Aerial photos below provided by Cajun Drone Photography  Jim Pierce Jr – FAA Part 107 Certificated UAV Pilot