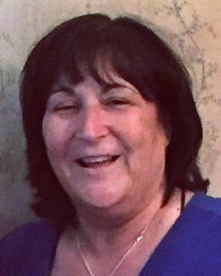 Cynthia Lucia Minor, a lifelong resident of Franklin, passed away unexpectedly at the age of 62 in the evening hours of Sunday, December 12, 2021, at her home. She was born in Franklin on October 25, 1959, the only child born to the union of Joseph Lucia and the former Barbara LaGrange.
Cindy, as she was affectionately known, was the type of person who never met a stranger and had a way of making everyone feel like family. She loved big with her whole heart, had a nickname for everybody, and could send the most serious person into side-splitting laughter. Never at a loss for words, with Cindy, what you saw is what you got. You definitely knew exactly where she stood on any given topic or current event. Cindy's personality made it possible for her to work in many various workplaces. Whether it was in sales, contracting, real estate, or her old days at KFRA radio, Cindy gave it her all and handled whatever task was thrown her way. Some of her favorite pastimes included golf, LSU football, and trips with family and friends. She absolutely loved following her "boys" in all their sporting activities and being their bleacher coach, with or without their approval. Fun aside, those who knew Cindy knew that she was also a devout Catholic who cherished her faith and regularly attended Mass. Though she didn't hold a specific hour at the Perpetual Eucharistic Adoration Chapel, she served as a substitute for many who called on her. To support her love for LSU wear your stripes, purple and gold. Geaux Tigers!
Those she leaves to cherish her memory include her godchild, Shay S. Brasseaux and her husband Chris and their sons Ty and Myles; her godchild, Madix Landry; her sister, Roxanne L. Lange; her brother, Joseph John "Joey" Lucia Jr.; her step-brother, Thomas "Tommy" Ducote; her cousin, Marianne LaGrange Adams and her daughter Alexi Adams Breaux and her husband Chris and their sons Bennett and Brock; her step-sons, Tony and Kenny Minor; as well as numerous extended family members and countless friends who will miss her dearly.
She was preceded in death by her husband of 22½ years, Arthur Neil Minor Jr.; her mother, Barbara LaGrange Lucia; her father and step-mother, Joseph John Lucia Sr. and Louise Lucia; and her step-sister, Melody Ann Ducote.
Funeral services will be held at Church of the Assumption in Franklin on Monday, December 20, 2021, during an 11:00 a.m. Memorial Mass of Christian Burial. Father Joel Faulk will be the Celebrant for the Mass. A private inurnment will be held at a later date in the Franklin Cemetery. Visiting hours will be at the church starting at 9:00 a.m., with the Holy Rosary being prayed at 10:00 a.m., followed by the Mass at 11:00.
Family and friends may view the obituary online by visiting www.iberts.com and are encouraged to share their condolences, cherished memories, love, and support for the family.
Arrangements have been entrusted to Ibert's Mortuary, Inc., 1007 Main Street, Franklin, LA 70538, (337) 828-5426.