The Bayou Horseshoe Pitchers Association's held their "Annual Day in The Park" this past Saturday at Kemper Williams Park. Below are the list of winners and pictures of the event.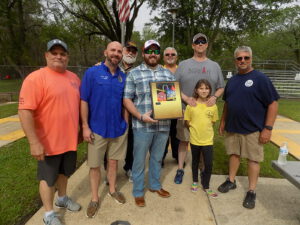 Presentation of the Inaugural Battle of The Badges (St. Mary Law Enforcement vs St. Mary Parish Fireman) traveling plaque to Law Enforcement.
L – R Hilton Rhodes (BHPA), Berwick Asst. Police Chie J. P. Henry, St. Mary Parish Sheriff Blaise Smith, Berwick PD Officer Carl Reed (Tournament Champion with Sheriff's Dept. Officer Justin Morvant missing from pic), Berwick PD Lt. Curtis Ribardi Retired, Berwick Police Chief David Leonard, his granddaughter Carrielle Leger, Craig Rink BHPA.
The event will be an annual event sponsored by the Bayou Horseshoe Pitchers Association.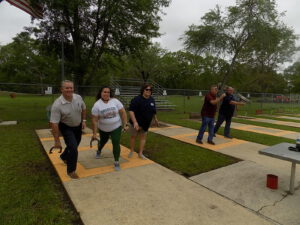 Pitching first horseshoes of the year. Members of the St. Mary Council.
Patrick Hebert – District 6
Dr. Kristi Rink – At Large District 9
Gwen Hidalgo – At Large District 10
Dean Adams – At Large District 11
Les Rulf – District 5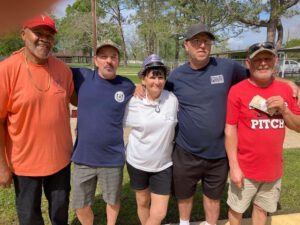 Tournament was a Hi Lo, Blind Draw, Scratch, Change your partner each round (Horseshoemania). Players played as a team but played independently. Total scores were added to each players stats and added up to determine the winners.
1st – Burnie Williams – Morgan City
2nd – Jim Guzdial – Patterson
3rd – Pat Pertuit – Marrero
4th – Travis Bourdier – Patterson
5th –  Randy Giroir – Berwick