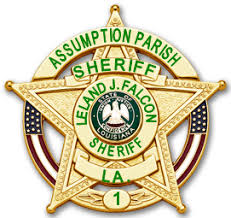 BAYOU L'OURSE – Assumption Parish Sheriff Leland Falcon reports the arrest of Joseph M. Wiggins, 26, of 404 Aristle Road, Bayou L'Ourse, LA, on felony charges arising from an incident that occurred on or about April 1, 2023 in Pierre Part, LA
On the aforementioned date, deputies were dispatched to a residence in the 3200 block of LA 70 in reference to an individual, now identified as Joseph M. Wiggins, making threats. The complainant advised that Joseph M. Wiggins was arguing with someone at her home over the telephone. At some point the complainant attempted to speak to Wiggins but he made threats indicating he would "Shoot up her home".
Deputies were ablet to recover some electronic evidence confirming that calls were made from Wiggins' phone at the time of the alleged offenses.
Deputies applied for and were granted arrest warrants for Joseph M. Wiggins.
Deputies arrested Joseph M. Wiggins on Thursday in Bayou L'Ourse.
Joseph M. Wiggins was booked into the Assumption Parish Detention Center on charges of:
*Terrorizing
Joseph M. Wiggins remains incarcerated pending a bond hearing.