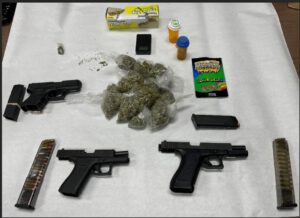 On March 29, 2022, the New Iberia Police Department's Direct Patrol Unit attempted to conduct a traffic stop on a vehicle at the intersection of South Hopkins Street and Lombard Street.
The driver of the vehicle failed to stop, and a pursuit was initiated. The pursuit traveled south on Hopkins Street, crossing West Admiral Doyle Drive onto Louisiana Highway 675, where it continued to travel south on Louisiana Highway 675 before traveling west on U.S. Highway 90.
Once the pursuit reached U.S. Highway 90 and Albertsons Parkway in Broussard, the driver of the vehicle lost control and crashed into a bridge support. The vehicle came to rest and five individuals exited the vehicle and fled on foot.
All five individuals were apprehended without incident.
At the conclusion of the investigation, three firearms and suspected marijuana were recovered.
The New Iberia Police Department would like to thank Louisiana State Police, Iberia Parish Sheriff's Office, Lafayette Parish Sheriff's Office, Broussard Police Department for their assistance in apprehending the individuals.
The following individuals were arrested:
Ronald Absent – 19 years old
Illegal Window Tint
Aggravated Flight from an Officer
Aggravated Obstruction of a Highway
Illegal Possession of a Stolen Firearm
Resisting an Officer
Denitrell Johnlewis – 22 years old
Possession with Intent to Distribute a Schedule I Controlled Substance
Resisting an Officer
Dontre Colbert – 20 years old
Resisting an Officer
Possession with Intent to Distribute a Schedule I Controlled Substance
Illegal Carrying of Weapons
Possession of a Firearm in the Presence of a Controlled Substance
Spencer Brown – 21 years old
Resisting an Officer
Illegal Carrying of Weapons
Possession of a Schedule I Controlled Substance
Devontre Phillips – 22 years old
Resisting an Officer
Possession with Intent to Distribute a Schedule I Controlled Substance