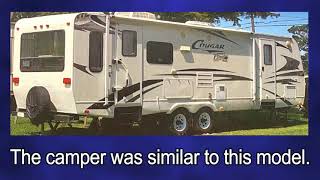 Sheriff Blaise Smith and the Investigations Section of the St. Mary Parish Sheriff's Office are looking for information regarding a camper that was stolen in Bayou Vista.
On July 31, 2020, at 6:08 am, a subject driving a pickup truck backed up to a camper that was located at 1400 Canal Road, hooked up, and drove off with the camper.
The camper was a 2007 Cougar Travel Trailer.
If you have information regarding this crime, please contact by calling 337-828-1960 or send information via their website at www.stmaryso.com.